The most obvious new element in the form guides are the race reviews which review how each dog performed in their previous races. Each review starts with how well the dog left the boxes (from 1st to 8th) and finishes with the Actual Time that the dog went on the day.
To fit a full review into the scarce space, reviewers are forced to use a lot of abbreviations including some new ones just for Greyhound racing; such as; the abbreviation "xx" for"checked" and "xxx" for "severely checked", "<<" for "veered left", "<<<" for "veered sharply left" and ">>" and ">>>" indicate a Greyhound veering right and sharply right.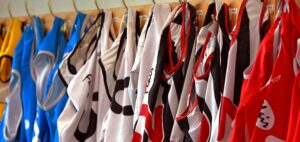 The race reviewer will mark a review as a "BlackBooker", BB, if a dog is particularly impressive or unlucky.
Other features introduced to the form guide are;
the actual margin from the Winner for all dogs placed 2nd through 8th
displaying the Fixed Odds Win price for each runner,
highlighting in inverse each dog's relevant box stats,
"greying out" race records that are NOT over the same Track/Distance as the race the form is for, i.e. for a 305m race at Wanganui any race records not over 305m at Wanganui are greyed out,
highlighting in inverse the Actual Time run by a dog if it was the Best Time of the Day
highlighting the Best Time of the Day in inverse if this was set in the race that this dog raced in,
and highlighting with two bullets,
the five fastest times from the form on display for each race.